Korea and its economy – Facts & figures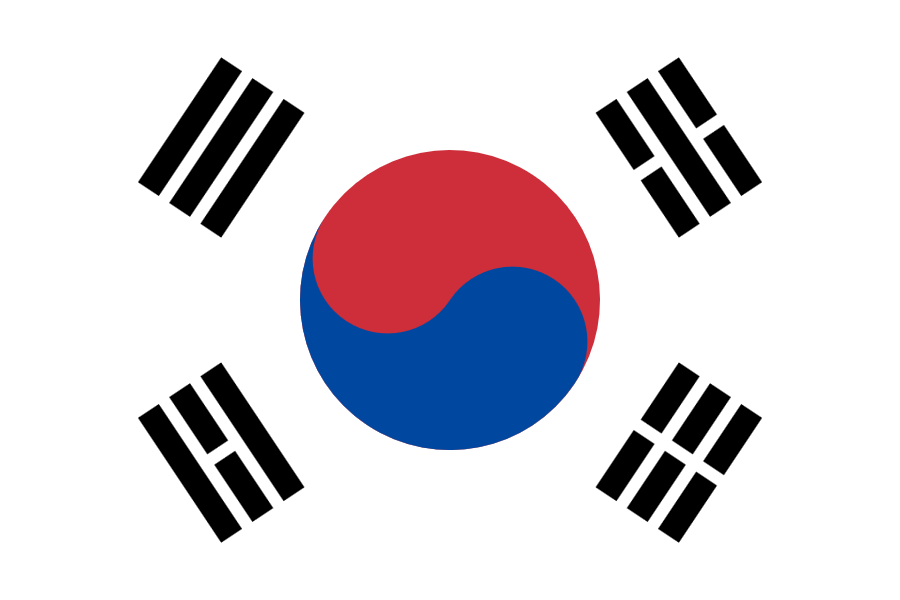 Country name: Republic of Korea (South Korea)
Capital city: Seoul (since 1394)
Language: Korean (Written form: Hangeul)

Geographical location: The Korean Peninsula (lat. 33˚ ~ 43˚; long. 124˚ ~ 132˚)
Territory:
223,433 km2 (including North Korea)
- South Korea only: 100,295 km2 (2015)
Standard time: 9 hours ahead of Greenwich Mean Time
Population: 51.07 million (South Korea, 2016)
Major cities by population (2015): Seoul (9.744 million), Busan (3.216 million), Incheon (2.685 million), Daegu (2.244 million), Daejeon (1.564 million), Gwangju (1.536 million)
Political system: Free democracy; Presidential system
President: Moon Jae-in (since 2017)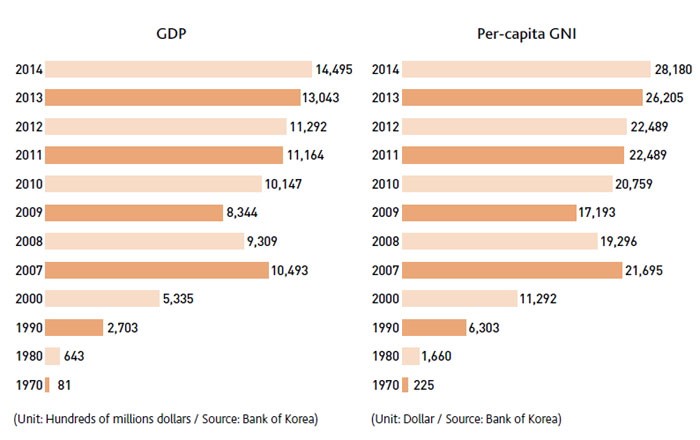 GDP: US$1,411 billion (2016)
Per capita GNI: US$27,561 (2016)
GDP growth rate: 2.8% (2016)
Currency: Korean won (US$1 = 1,208 won; floating exchange rate)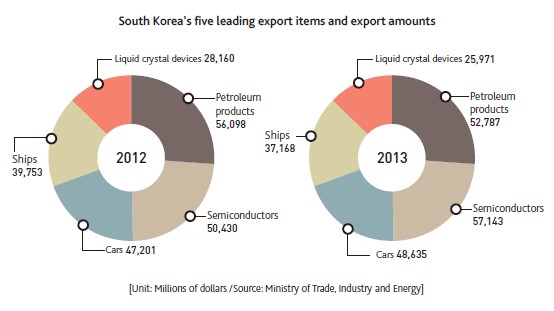 Trade:
Export: US$552.3 billion (2017 est.)
Imports: US$448.4 billion
(2017 est.)
Major industrial products:
Semiconductors, automobiles, ships, petroleum products, liquid crystal devices
Railways industry in Korea
Railways infrastructure in Korea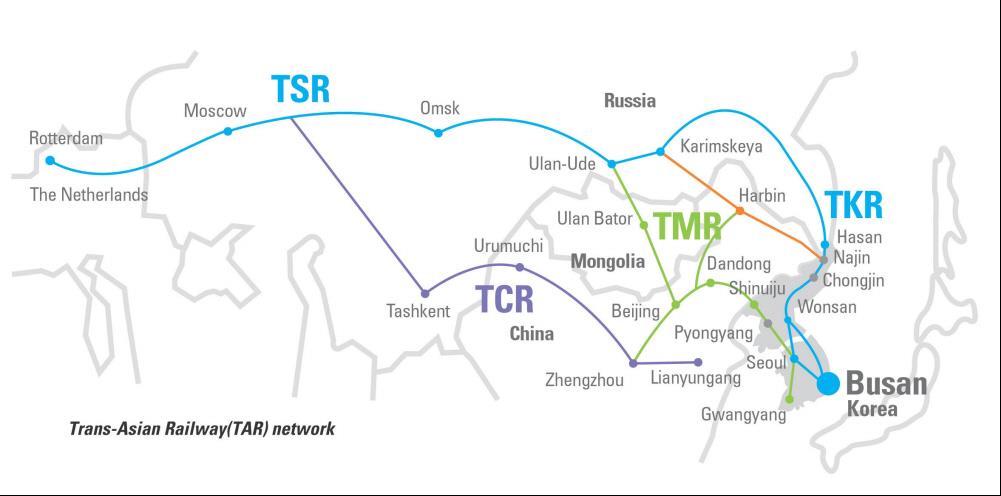 Business Background: Trans-Asian Railway Network 
South Korea is eager to be reconnected to the Trans-Korean Railways (TKR) and the emerging Trans-Asian Railway (TAR) network – the Iron Silk Road that connects Asia and Europe.
Establishing the railroad that runs across the Korean peninsula has been a long-cherished desire of South Korean political leaders in a bid to crack open North Korea, but it has been shelved whenever the tensions between two Koreas grew. But the idea of restoring the disconnected cross-border traffic route came back, buoyed by the inter-Korean summit in April 2018. After the historic inter-Korean summit concluded on a high note, hopes are growing that North Korea may soon re-open its doors to South Korea, and connecting railways is the precursor for broader economic cooperation.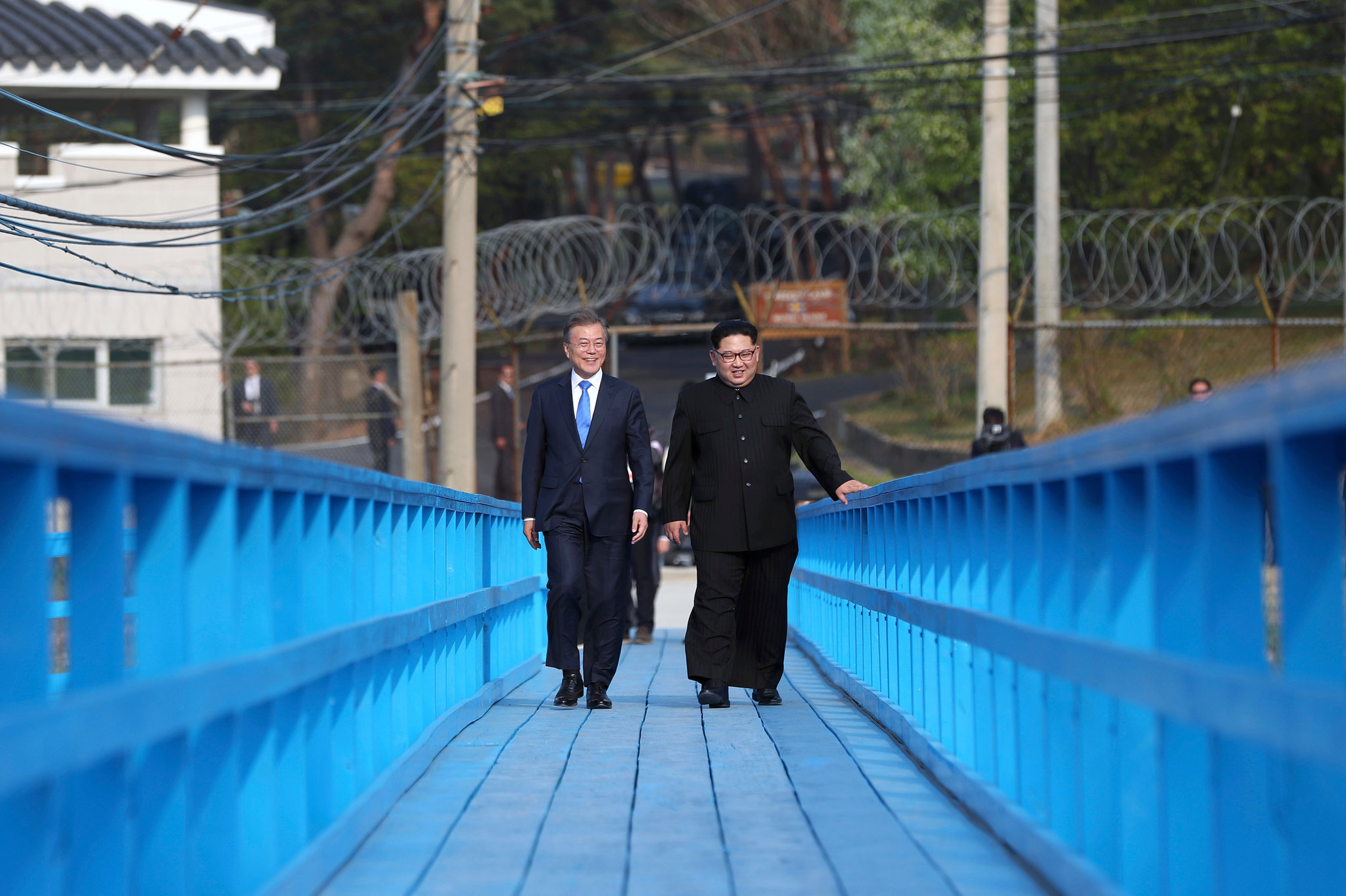 With the two Koreas' leaders pledging to restore now-defunct railways and roads during the summit, hopes are high that the initiative will prompt cross-border cooperation in the economy and logistics. President Moon Jae-in and North Korea's leader Kim Jong-un agreed to adopt "practical measures" to connect and modernize the Gyeongui Line and East Coast Line. The former is between Seoul and Sinuiju, while the latter had connected the South's coastal city of Busan and Wonsan of the North.
In preparation for the possible reunification of the divided peninsula, South Korea has gradually rebuilt and upgraded the southern section of disconnected railways and road. The government is seeking to invest more in the nation's rail transport sector over the next three years. It plans to build a railroad logistics hub in the Seoul metropolitan area and to expand a railroad line on the east coast and south of the inter-Korean border.
The reconnection of trans-Korean railway suggests us significant meanings as an important inter-Korean economic cooperation as well as a cornerstone for the TAR network. The TAR network, cutting across the entire Asian continent, offers a land transport alternative, which links Asian markets with Europe and facilitates intra-regional and inter-regional movements.

Korea depends heavily on road transport for movement of people and goods but is making efforts to make a change to railroad transport which is considered much safer and more environmentally sustainable.
The government increased the investment in railway infrastructure in accordance with the mid and long-term 'National Inter-modal Transportation Plan' (2000-2019), which earmarks 94 trillion won for railways, and the government plans to extend the length of railroads to 4,908km by 2019 with 80 percent of the lines multi-tracked and 82 percent electrified.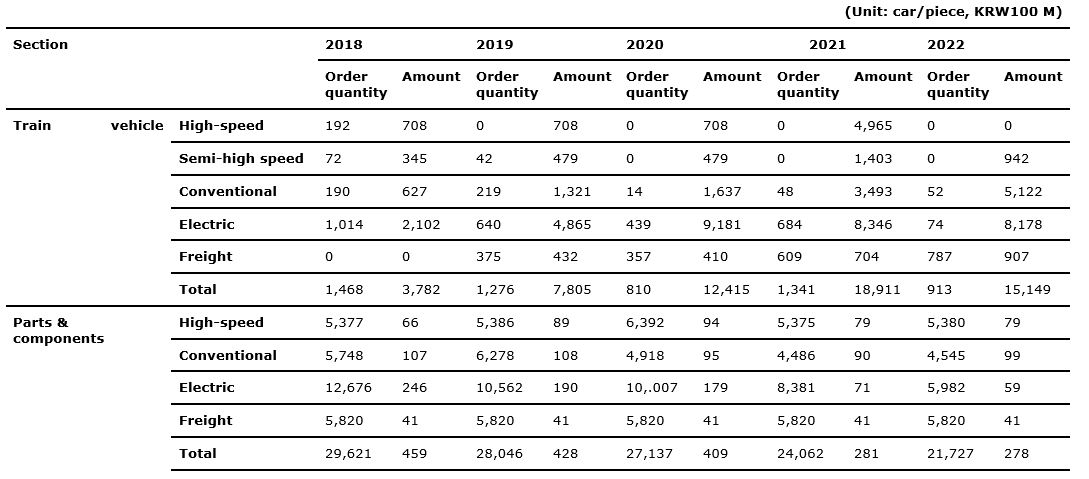 Railway and rolling stock technology
Meeting the "Green Growth Era," Korea's railway industry which has been sluggish for decades is now gaining a new vigor. The opening of the first phase of the Gyeongbu (Seoul-Busan) High-Speed Railway has greatly contributed to putting much of the nation within half a day's travel as well as helping to balance the national transport system, which had relied heavily on automobiles. The Korea Train Express (KTX) has the design speed of 330km/h and a maximum service speed of 300km/h. With the completion of the 167.2-kilometer Daegu-Busan section of the second phase of Gyeongbu line, followed by the 230.3-kilometer Osong-Mokpo section of the Honam line, the construction of which was completed in 2017 – KTX came to connect more of the nation, helping solidify national competitiveness and social cohesion. The nation is also developing high-speed electric tilting trains and next-generation light trains based on new materials for operation in areas where KTX cannot run.
Transportation and logistics infrastructure

Government policy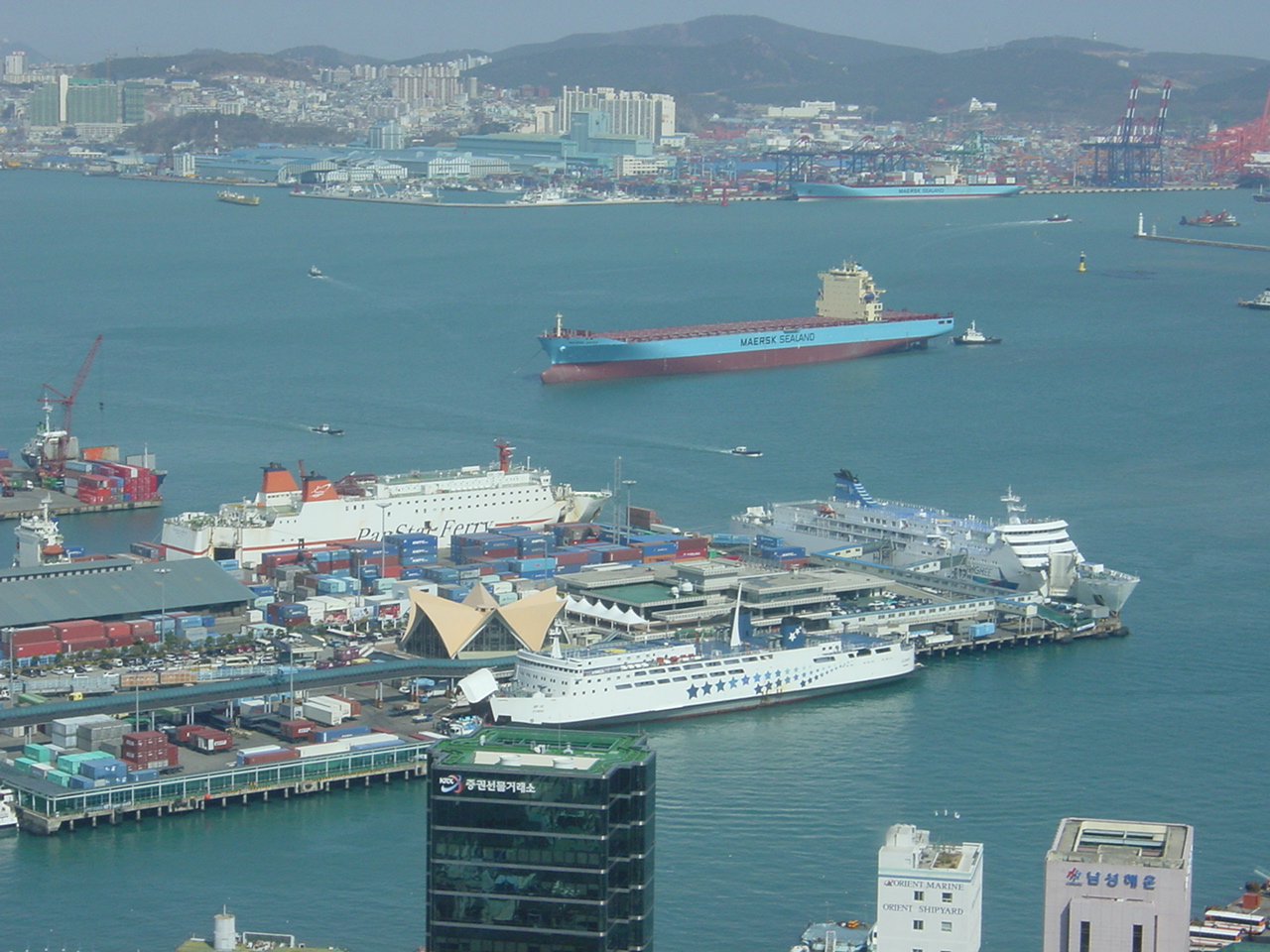 Korea has made an extensive investment in expanding and modernizing its transport infrastructure since the 1960s, aiming not only to ease traffic congestion, but also to enhance growth potential and improve quality of life.
From 2005 to 2009, despite relative increases in government transport infrastructure investment has gained 7.8 percent on average, on a par with the 7.9 percent expansion of the overall national budget. Infrastructure investment accounted for 7.7-8.7 percent of total public expenditure during the same period, attesting its importance for national growth and advancement. In 2009, the government raised its spending on transport infrastructure to assist regional development by a whopping 26 percent, far higher than the average growth rate of 3 percent during 2004-8. With continued increases in infrastructure investment, the nation could expand its transportation stock, complete the frame of a nationwide transport network and sharply increase transport capacity for both passengers and freight.
The government is speeding up the development of main facilities, adjoining areas and access transportation facilities at Incheon Airport and Busan and Gwangyang Ports in order to turn them into logistics centers in Northeast Asia according to the roadmap. The nation is also expanding inland logistics hubs/terminals for more efficient transportation network, while adjusting the allocation of transportation facility investments to increase investments in railways and seaports in order to build large capacity transportation network.
Furthermore, customs clearance procedures are being greatly facilitated and Customs Free Zone and Free Trade Zone Acts, which aim to assist international logistics activities, are being integrated to promote attraction of world's top logistics companies to Korea. In addition, the government is very active in promoting logistics companies and training experts who will play leading roles in the improvement of Northeast Asia's logistics system.
In transport infrastructure policies, the nation set its sights on the enhancement of national competitiveness by lowering logistics costs. It also aims to improve of quality of life through higher mobility, better accessibility and greener transportation.
On August 2003, the government conceived the vision of developing Incheon International Airport, Busan Port and Gwangyang Port into a "Gateway to Northeast Asia, a gathering place for people, information and cargo from around the world" and integrated the related plans of individual government agencies to establish a comprehensive "Northeast Asian Logistics Hub Roadmap."
As for air transportation, Incheon International Airport serves as the nation's hub for external connection. Incheon International Airport, opened in March 2001, is equipped with state-of-the-art facilities and provides advanced traffic networks for its customers. With its strategic location, the new airport is poised to become a leading logistics and transportation hub in Northeast Asia. Expansion plans for the airport area include establishing a Free Trade Zone, International Business District and Special Economic Zone.
Songdo International Business District (IBD) is a master-planned international business center being developed on 1,500 acres of reclaimed land along Incheon's waterfront. It is located 40 miles south of Seoul and will be connected to Incheon International Airport by a 7-mile highway bridge.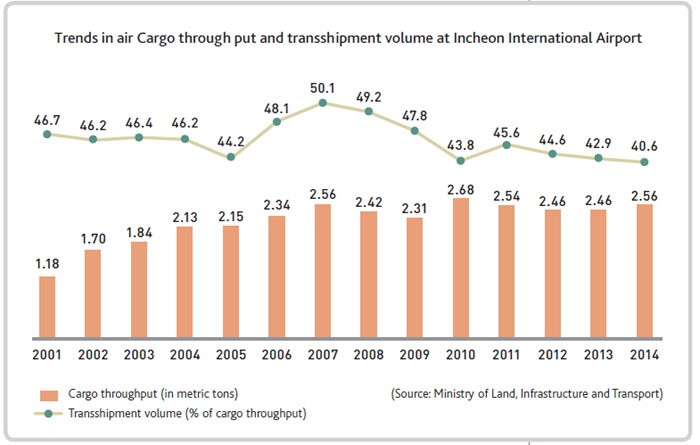 Incheon International Airport has seen a continuous increase in the volume of cargo since its opening in March 2001. In 2006, it handled 2.34 million tons of international air cargo, becoming the second leading airport in the world in terms of air cargo volume.
To accommodate an ever-growing flight demand, the airport is set to expand its passenger and cargo terminals and concourse in steps. The scope and timing of a third phase of expansion will depend on future travel demand.
Seaports are another pillar of transportation in Korea. With the completion of Busan New Port and the expansion of Gwanyang Port, the nation achieved its long-anticipated "Two-Port System," adding momentum for the nation's ambition to become a Northeast Asian Logistics Hub. Logistics infrastructure at Busan Port and Gwangyang Port will be developed to allow them to increase their significances as freight hubs and become key maritime bases in Northeast Asia.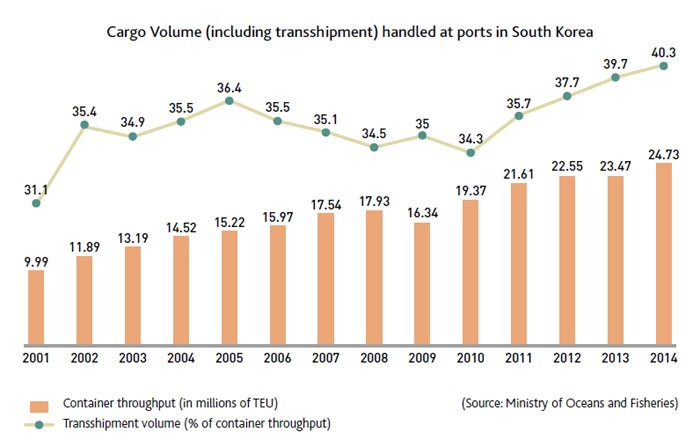 Container ships from Korea ply international sea lanes to ports in South and North America, Europe, Australia, the Middle East and Africa. Foreign ocean liners, cruise ships and passenger-carrying freighters also pay frequent visits to Korean ports.
Port cargo volume also climbed steadily, from 11.89 million twenty-foot equivalent units (TEU) in 2002 to 17.48 million TEU in 2007, with the expansion of port facilities and increased productivity through improved cargo handling capabilities at Busan New Port, Gwangyang Port and Incheon Port. In particular, Busan Port handled 12.04 million TEU in 2006, ranking fifth in the world for three consecutive years in terms of volume of containers handled.
In addition, with the aim of increasing the annual cargo handling capacity at seaports from the current 423 million tons to 1.01 billion tons by 2019, the government plans to put port bases in operation in each of six mega-regional economic zones, including the greater Seoul zone, develop more logistics complexes in port hinterlands, and build Saemangeum New Port as part of the development plan for the Saemangeum area of reclaimed land. The master plan also looks to construct a nationwide logistics network by expanding and refurbishing large-scale inland freight docks in five regional economic zones. The government will consider constructing two or three more such facilities depending on future demand.